Album Review


ByStarlight's Antics EP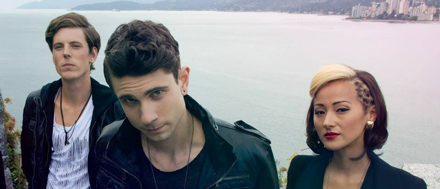 Tweet
Photos Supplied
September 11th 2013
By Charlotte Blackwell- Radio Nation
cblackwell@radionation.ca

Earlier this year Vancouver based electro-pop band ByStarlight released their debut album to 604 Records, the same label as popular bands such as Marianas Trench, Carly Rae Jepsen, Faber Drive and Fighting For Ithaca. The trio has knocked the new album 'Antics' right out of the park.

Since the album was released I have not been able to stop playing it. Antics starts out with their debut single Here's To The Times, a catchy up beat tune that reminisces about the good times in a relationship gone bad.

They have also released a fun video for this song where label mate Josh Ramsay of Marianas Trench plays the douche bag that steals the girl. In the video with the help of his friends/band mates Nigel gets revenge on his high school sweetheart that left him for the over the top Ramsay.

The best line in the song is "C U Next Tuesday", I giggle every time I hear it. The other songs on the album are just as catchy and you can't help but dance to the amazing melodies, synths and fist pumping beats. Nigel John Crowe and Rachel Ashmore have amazing vocals that are simple perfection alongside Jeff Zipp's guitar talents.
Each song matches the previous one with great lyrics and instrumentals. I think this band is on to something and is going to shoot to the top of the charts in no time. Antics closes the album with two of my favorite songs from all the tracks 11:11 and Monster. I've got everyone I know dancing to these songs and that is probably the only apology ByStarlight needs to make; getting people like me out on the dance floor who have no right to be there.

Antics is one of the best debuts I have heard from a newly signed artist in a long time. Well done By Starlight and well done 604 for inking this deal.

© Radio Nation