Album Review


Halfway To Hollywood's Speechless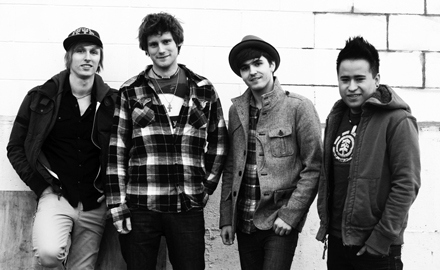 Tweet
Photo By Nicholas M. Pescod
September 7th 2012
By Jenna Cocozziello - Radio Nation
jcocozziello@radionation.ca

Halfway To Hollywood is a unique powerpop group with a knack for background synths that help give proof to the obvious talent of the trio. With Grant Walker's harmonic voice on lead vocals and lead guitar, Brenden White on vocals and bass, and Roman Zugarazo on drums, Halfway To Hollywood's EP "Speechless" consists of six songs-the pop/rock version and the acoustic version of each song. The acoustic take for each song was very unique, and definitely stood out to me as an awesome characteristic of this debut EP. Each song was very catchy and had lyrics that were very sweet and from the heart.

The acoustic version of 'Still Waiting' was definitely my favorite from the album. The melody and harmony were perfectly in sync and made the song sound that much more amazing. The lyrics were extremely heartfelt and the song had a beautiful ring to it. It is a very memorable song and had a strong sense of serenity, control, and love that some songs by other artists fail to posses. It it clear that this group not only put in time into creating this debut, but also put in a lot of heart. Each song had appealing, cute lyrics that let the listener feel the band's emotion within the first ten seconds of impact.

Being one of the best debut EP's I have heard for a pop group, I would definitely give "Speechless" a five out of five. The EP as a whole was excellent from start to finish. The amount of feeling and energy put into the songs is amazing, and definitely outlines a fantastic band. It leaves me wanting more, and I cannot wait to hear more music from this powerful group.

© Radio Nation